Medical Assistant Training Program
Program Overview: Students learn medical terminology, billing, and coding; learn how to take patients' vital signs; giving injections (IM, ID, & subQ); Venipunctures; doing ECGs; dose calculations and metric conversions; receive CPR certification.  Graduates are prepared for certification and are qualified for work in doctor, and optometrist offices as well as medical clinics and facilities.
Length: 4 modules + Externship – 28 weeks total (24 weeks for the course+ 4 weeks for externship) (640 hours)
Sessions:
TBA 6/15/2020 to 8/21/2020
9/7/2020 to 11/20/2020
12/7/2020 to 02/26/2021
Hours: Monday through Thursday, 4:30 p.m. to 9:00 p.m.
What you get from this program
Participants will develop, identify, and analyze instructional skills that will lead to job opportunities in the medical field. Through various lectures and hands on experience, students will be able to implement a variety of medical assistant skills such as following HIPAA & OSHA guidelines, general administrative duties, medical terminology, Clinical duties, billing, and coding. Life skills and job readiness training are also provided during this training course.
Certifications
JobTrain Certificate of Achievement
CPR Certification
Optional: Profession Industry Certification: NCCT-National Certification Of Competency Testing
Career Opportunities
Medical Offices
Optometrist offices
Wellness Centers
Surgical Center
Other Medical Specialty and Outpatient facilities
Entry Requirements
Must attend JobTrain's information orientation, WONDERLIC Assessment with scores of the 9th grade level or better in reading comprehension, must be a High School graduate, and must be 18 years of age. Needs to have basic math skills and show evidence of good health and verbal skills.
Background Check
Must not have any adult criminal convictions or any pending charges of any court (other than minor traffic convictions) or have proof of expungement or dismissal of conviction. A background check will be done during the first week of the program.
Medical Background
Updated immunizations including 2 Step TB skin test or Quantiferon, 3 series of Hepatitis B or Titer, 2 doses of MMR or Titer, 2 doses of Varicella or Titer, DTaP vaccine or titer, Flu, and complete Physical Examination to participate in Clinical Externship.
During Program
Participation in externship will be based upon successfully completing the first four modules of class and on instructor's recommendation. Students must pass a final clinical skills check-off (evaluation) from the Medical Assistant Instructor prior to externship. Successful completion of externship will be required to obtain a Certification of Achievement for the Medical Assistant Training Program. Students must maintain a 95% attendance level and a GPA of 75% and above.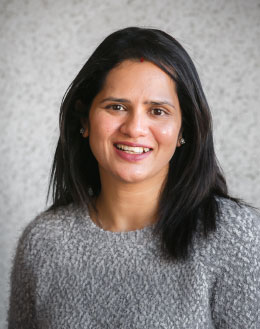 About The Instructor
Geetika Pattjoshi
Geetika is a certified Medical Assistant and IT professional, who has worked in healthcare settings, corporate organizations and teaching environment.  She is very passionate about teaching and being able to guide the students towards completing the program and achieving their goals. Providing result-oriented professional training to our students at JobTrain for over 2 years.