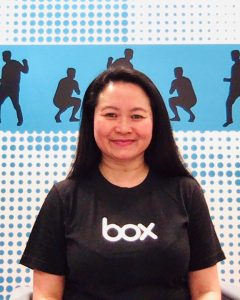 In the fall of 2017, Tochau Schutt, a Bay Area native, graduated from JobTrain's Web Technology pathway. She already had 15 years of experience in the tech industry, but applied to JobTrain's programs to "acquire new skills, new programming languages, (and) new technologies so that (she) would be more marketable and possibly able to transition to working in a new field and industry."
Tochau recommends JobTrain for anyone looking for a career change: "My favorite part about JobTrain is that I felt the great sense of community support all around me and that was very helpful for anyone going through a career transition like me.  The organization provided me the support in both new skill development (Salesforce knowledge) as well as professional career development (resume building, LinkedIn profile tips, interviews and job search skills, mock interviews and visits/connections to Tech companies)."
After graduating from JobTrain, Tochau began a paid internship with Box, a cloud content management company that has been a hands-on partner with JobTrain for several years. This internship evolved into a temporary contract position in 2018, and culminated with a full-time hire at the organization in 2019!
Tochau says: "I had lots of support from my teacher, career advisors, my classmates, the staff and other students from JobTrain.  I believe that everyone can learn a new skill-set by taking a class on their own.  But having this kind of great support and encouragement is what makes JobTrain unique, as well as a great organization.  It helps people, to be more marketable and to be, eventually, gainfully employed. I am sincerely thankful for this opportunity!"
Thank you to students like Tochau, who bravely take that first step into a new career, and thank you to organizations like Box, who support the community and promote inclusive hiring.